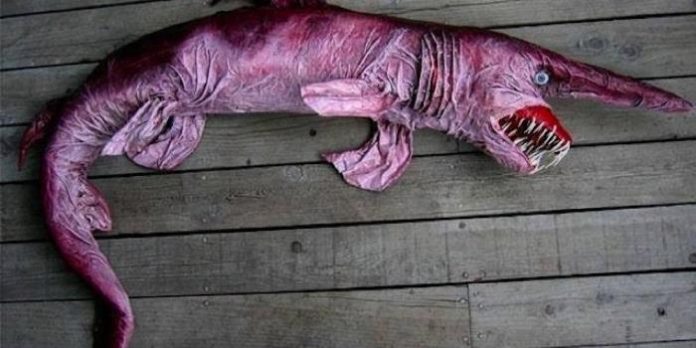 Naturen er fantastisk, men disse bildene viser at den er mye vakrere og skumlere enn hva vi trodde! Du visste sikkert om nr. 21, men hva med nr. 17? Jeg kan nesten ikke TRO mine egne øyne!
Sjøkneler

2. Panda-maur

3. Blå papegøyefisk

4. Okapi

5. Goliat tigerfisk

6. Neseape

7. Glaucus Atlanticus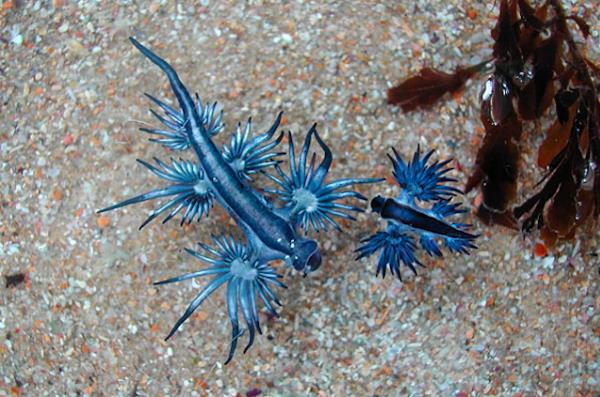 8. Pacu-fisk

9. Nyctimene robinsoni
Real or not real? Real! This is a tube nosed fruit bat pic.twitter.com/gKC2a1LTkg

— doomey (@doomey) 9. juli 2014
10. Semicossyphus reticulatus
The Asian Sheepshead Wrasse has large swelling-like protrusions on its 'forehead' and 'chin'. via @Strange_Animals pic.twitter.com/qUvsyZJsRM

— Chris Sergeant (@UnderWaterWorId) 19. august 2013
11. Ekorntannspinner
The Lobster Moth, whose caterpillar bears an uncanny resemblance to the crustacean. pic.twitter.com/MIcEnLdBXu

— Sofía M. Villalpando (@sofiabiologista) 3. juli 2014
12. Marabu
brace ur self, the Marabou Stork @_Ruthieeee: No 😐 «@Koncrete_Man: Have you ever seen an animal and had to lo(cont) pic.twitter.com/K33kMqwEp5

— Dark Horse🐴 (@WoodBoy_) 26. juni 2013
13. Cephalopterus penduliger
Long-wattled Umbrellabird pic.twitter.com/7QjwlTxkg9

— Cumali (@CUMALi_YILDIZ) 26. april 2014
14. Celebesmakak
Bottoms Up!
The Celebes Crested Macaque – http://t.co/9IGVun5rT9 pic.twitter.com/gJ1GLqoFb1

— Pinky Patterson (@SpacePinky) 20. mars 2013
15. Pinocchio-frosk
Pinoccio frog. pic.twitter.com/zVtFWJU9iF

— Strange Animals (@Strange_Animals) 18. oktober 2014
16. Ogcocephalus darwini
 
17. Nesehai
 
18. Mankeulv
 
19. Vanlig ålebrosme
 
20. Gerenuk
 
21. Narhval
 
22. Honeypot ant
Honeypot Ant @Apocalypto_12 #BigBoyBongos pic.twitter.com/vxc3i5obun

— Sassyplier 💪🖕 (@_tRollingStones) 21. januar 2017
23. Stjernemoldvarp
Who in their right mind would want a star nosed mole stuffed animal? (Me) pic.twitter.com/jkNuoZQqtk

— (hoe)kage (@eecope) 3. november 2014
24. Trogloraptor
@JustRemon @JordyVdVelde @RobinKompierr deze heet 'Trogloraptor' vanwege zijn raptor klauwen, hij hangt aan de pic.twitter.com/azXiFLV4

— feike iden (@BeerFeike) 14. februar 2013
25. Lesula-apen
This lesula is just tired of all your nonsense. pic.twitter.com/ryWRIODjxN

— Gh👻st in the Chelle (@riding_red) 25. november 2014
26. Skalløse vingesnegler
Clione limacina, common name Sea Angel, is a sea angel found from the surface to greater than 500 m in depth. pic.twitter.com/A6QlsYSnb7

— Amiplanet (@amiplanet) 17. oktober 2014
27. Hårgullbasse
That metallic beetles exist 👍 http://t.co/Dfv6sVRili pic.twitter.com/0o9IhiQEYs

— neenie (@deneengove) 11. oktober 2013
28. For en snål type hai!
 
29. Myobatrachus gouldii
Meet the Australian turtle frog, in all its pink, stubby, Muppet-faced glory. pic.twitter.com/GFLsXlhW2U

— Science WTF (@ScienceWTF) 12. desember 2014
30. Perinetbladhalegekko
The Satanic Leaf Tailed Gecko, is a species indigenous to Madagascar. #STLT #adapt pic.twitter.com/ZxAczdx3kJ

— DrFrankLayman (@DrSTLT) 4. november 2014
31. Sjøgris
Hahaha! This picture of a Sea Pig (a kind of sea cucumber) was posted online with the label "Cthulhu Larva"!! Snort. pic.twitter.com/9PuDQGidbe

— Lonny Eachus (@eachus) 12. september 2014
32. Glassommerfugl
 
33. Umbonia Spinosa
The Umbonia Spinosa, the weirdest creature I have come across. Read about it here: http://t.co/gi2rRlpOm6 #wildlife pic.twitter.com/eIy2FTDq1B

— Daniel Gennaoui (@DanielGennaoui1) 7. august 2014
34. Treskonebb
Meet «The Shoebill» (Balaeniceps rex) also known as a Shoe-billed Stork. pic.twitter.com/p63KByXkEU

— BLACK CONSERVATIVE (@blackrepublican) 16. mars 2014
35. Atheris hispida
Atheris hispida, a bush viper. pic.twitter.com/HUf0yb9uz7

— Oh Animals (@OhAnimals) 9. desember 2014
36. Blind slange
 
37. Savanneråke
Colors Of Lilac Breasted Roller Bird By Lee Hunter pic.twitter.com/YgvXbKkCH4

— Life on Earth (@planetepics) 10. desember 2014
38. Cordylus cataphractus
Mange av disse dyrene ser nesten ut som ekte Pokémon! Bildene viser også hvor viktig det er at vi tar godt vare på planeten vår, slik at fremtidige generasjoner også kan se disse utrolige dyrene!
DEL det gjerne videre med vennene dine på Facebook!